Play board games online!
Play board games online from your browser
Login
Register now - it's free!
Board Game Arena is now available in
Slovak
. Congratulations on their work and a big
thank you
to all Slovak translators!
This is the
20th language
available on BGA, which is pretty awesome! Thanks to everyone contributing to create and maintain translations.
The following languages are also open for translation, and need some more translators (at least 80% of the 'main site' module must be translated before we make the translation available):
Bulgarian, Indonesian, Czech, Estonian, Japanese, Finnish, Korean, Lithuanian
. If you are fluent in one of these languages, please contribute!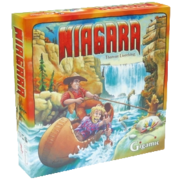 Board Game Arena and
Zoch Verlag
are happy and proud to propose you to discover
Niagara
, a game from
Thomas Liesching
.
Niagara
is a beautiful game where you have to collect jewels using canoes along a dangerous river. To find jewels, you have to go down the river, and then get back to the dock. But if you are too greedy, or if your opponents decide to suddenly change the speed of the river, your canoes will go over the waterfalls... To win, you need to be the first to collect 7 gems, or 5 gems with different colors, or 4 gems of the same color. Looks simple? Well, jump into your canoe and let's see what happens
Niagara won the most famous game prize the
Spiel des Jahres
in 2005.
Board Game Arena would like to thank
Zoch Verlag
for this adaptation!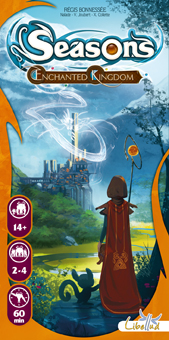 Your attention please: I'm talking to you, yes YOU, who love this fantastic game called "
Seasons
". For you, this summer will be hot, because this summer the first expansion of Seasons will be released: "
Enchanted Kingdom
".
And what an expansion: 2x20 new power cards, but that's not all: the designer introduced a set of new magical stuff that makes "Wizz", and I won't say anything more because I swear on the Bespelled Grimoire to keep my mouth shut.
That's for this summer. But this is Spring. So the publisher summons Temporal Boots to bring back 5 power cards from "Enchanted Kingdom" from the future, and
make them available on Board Game Arena
: Heart of Argos, Horn of Plenty, Familiar Catcher, Amulet of Time and Ratty Nightshade. To play with this new cards, you just have to select "Archmage + Enchanted Kingdom" as your difficulty level.
Thank you
Libellud
for this extension. And to get the last news about Enchanted Kingdom,
I suggest you to go there
.
Let the Magic play!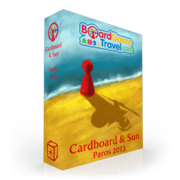 Board Game Arena is proud and happy to propose you
Thermopyles
, a game from Touko Tahkokallio (Eclipse).
Thermopyles is a co-op game designed especially for a very nice gaming event: the
Cardboard & Sun 2013
event in Paros, Greece, organized by
Boardgametravel.com
. Boardgametravel.com is a very special travel company, that bring you on nice places for your holidays with a ton of board games! Of course, it's a good occasion to meet players for the whole world, including Touko Tahkokallio who will join the trip. A limited-edition print of Thermopyles will be given to each participant of the trip.
About the game: Thermopyles is a co-op game where you guide the courageous but gravely outnumbered Spartan army against a superior force - the invading Persians. On BGA, it is proposed as a solo game - the first solo game on BGA! It's a very simple and very quick card driven game. To win, choosing when to put your strongest units into battle is essential, as is knowing when to make a stand and when to consolidate your strength.
Enjoy!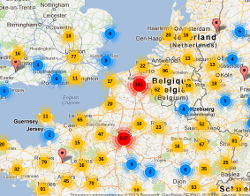 Let's say it again: the goal of this service is to promote boardgaming in real life, with real games that smell paper and wild meeples. That's why we choose to propose a new feature to let you find players that live in your area, and - who knows - maybe find some opponents for real boardgames party in real life.
Obviously for privacy reason we don't use addresses but only cities. The BGA players map is available from the "community" page (or
directly from this link
) and will show you players city by city.
By the way: we are going to publish this Sunday a special game (another surprise!). It's a cooperative game, and you will be able to play it on BGA as a "solo" game. This is the first "solo" game published on BGA, but this game is also special because this is an unpublished game - at now - from Touko Tahkokallio (the designer of "Eclipse")!
Enjoy!