Play board games online!
Play board games online from your browser
Login
Register now - it's free!
From today you can play
Everfrost
, the first expansion for the combat game
Tash-Kalar
designed by
Vlaada Chvátil
and published by
CGE
.
Everfrost is a new faction with new beings. It introduces a new special mechanism:
frozen effects
. These effects, symbolized by a little snowflake, may be stored to be used later. This allow you to make powerful combinations and bury your opponent under tons of snow.
As a good news never comes alone, we are pleased to announced to all Tash-Kalar fans that
the second expansion
Nethervoid
is going to be
available in next weeks
in your favorite shop. Please don't hesitate to follow
CGE Facebook page
to know everything about this release!
We'd like to thank the whole
CGE
team for publishing this expansion and for authorizing us to have it there.
Everfrost expansion has been developed by
Benjamin Wack
using
BGA Studio
: we should all sent you a big thank you for this!
As some says, "Winter is coming"
We are happy to introduce today
Lost Cities
, a game by
Reiner Knizia
published by
Kosmos
.
Lost Cities
is a very famous 2 players card game and a became a classic from Dr. Knizia.
In Lost Cities, you are an explorer trying to mount expeditions in 5 different sites represented by
5 colors
on the board. To score points on each color, you play series of cards from the same color, numbered from 2 to 10 in
ascending order
(ex: 2, 3, 6, 8...). On your turn, you play 1 card and then pick 1 card from the deck.
The difficulty is that
each new expedition "costs" you 20 points
. Consequently, you have to make sure to score at least 20 points in each color to make your expedition profitable for you!
To win, you'll need to manage your hand carefully. Instead of playing a card on an expedition you may
place it on the board
. This could be useful at some time, but
your opponent may also pick this card
instead of picking one from the deck!
Finally,
contract cards
may be played at the beginning of an expedition to multiply the profits... or the losses!
Lost Cities is a great game for two players, really addictive and simple to learn.
You should definitely try it!
Note: as announced in the previous news post, Lost Cities is a special
premium
game:
anyone of you can join
a Lost Cities game, but only
BGA Club members
are able to create new tables with this game.
Next December we are going to celebrate
5 years
of Board Game Arena! Yes, FIVE years! After all these years, BGA has become the
leading website for online boardgaming
, and you are today more than 400.000 registered players playing more than 300.000 games each month.
BGA is a
community website
: it works thanks to your help as translators, moderators, developers, money contributors, and all of you that contribute to make this place the best website to discover & enjoy board games on the web.
The least known fact about BGA may be the following:
no one is working full time on BGA
. No one. We (= the 2 founders of BGA) have jobs apart from BGA, and during the last 5 years we had to organize and negotiate with the rest of our lives to find enough time to run this service.
As you can imagine, it has been harder and harder to keep this approach as the service is growing and growing. Even if the community is doing a fantastic job,
BGA now needs someone
to coordinate all the contributors and to make sure everything is running smoothly. To speak clearly: one of the 2 founders is going to quit his job to focus on BGA. This will allow us to have a more
professional
website, to be more responsive to your emails, forum posts and developers requests, and to have time for features you have been a long time waiting for (like tournament creation for example).
Of course, we need money to do this. Thanks to BGA club members, we already have some, but not enough to be sure to make this situation permanent. And the thing is
we don't want to change
the way this website is working now: free, run by the community, without invasive and off topic ad banners.
What we decided to do is to give
more visibility and more functionalities to BGA club members
, to thank them for their support. Currently, a Club membership essentially allows you to access statistics (such as your ELO rank). In the following weeks, there will be some announcements concerning new stuff for players that choose to support us, and we will also make the BGA Club and BGA Club members more visible.
To experiment this, we'd like to introduce a special "premium" game for BGA Club members, and this game is the famous
Lost Cities
from Reiner Knizia. The principle is the following:
anyone of you can join
a Lost Cities game, but
only BGA Club members are able to create new tables
with this game. This is a little bit like in real life: you can buy a game to play it whenever you like, or you can wait for a friend who owns it to extend an invitation to you. We don't know yet if this will be appropriate, if this will be efficient, or if this will be enough, but we'd like to experiment this and we hope that BGA Club members will appreciate it
Note that for now this is a
BETA
test for Lost Cities: please report any bug you may find along your plays in "Community / report a bug".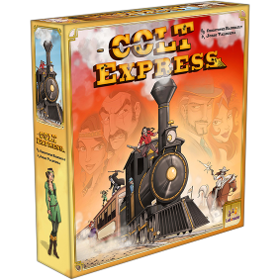 We are really happy to introduce today our personal favorite game from 2014:
Colt Express
, a game from
Christophe Raimbault
published by
Ludonaute
.
Some games are driven by a good theme, but have heavy mechanisms. Some games come with wonderful and innovative mechanisms, but with an artificial theme. The essence of Colt Express is the following: an
excellent theme
perfectly integrated with innovative, fluid and easy-to-learn mechanisms.
Recently Colt Express won the prestigious
Spiel des Jahres
, and also won the most prestigious French price
As d'or
. You should also be aware that a
first expansion
Horses & stagecoach
is going to be released for Essen 2015. To learn more about the expansion,
click here
, and/or like the
Ludonaute Facebook page
.
In Colt Express, you are playing
armed bandits
robbing a train in the
Far West
. The game consists of 5 rounds of 2 phases:
_ During the
first phase
, on your turn you play 1 action card in a pile common to everyone (face up or sometimes face down). Depending on the round each player plays 2 to 5 cards this way.
_ During the
second phase
, the actions are resolved in the order they have been played. For example if you played a "go up or down" card, your meeple is going to the top of the train or to the bottom (depending on its current position). If you played a "shoot" card, your meeple can shoot an opponent's meeple. If you played a "Rob passengers" card, you can pick some interesting things at your meeple place: gems, bags of loot, suitcases...
Each players controls a character with a
special ability
. For example "Ghost" always plays his first card face down, so other players can never know what his first move will be. You'll also have to avoid the Marshall (yellow meeple) who protect this train.
At the end of the game, there is a special prize of
$1000 for the best shooter(s)
, and then whoever bagged the richest haul wins!
You can learn all the rules with the video below.
Colt Express has so many qualities that I cannot make a list. The game is
simple
, intended for
all audiences
(note that "expert" gamers may use the "Expert" variant). The nicest thing with this game is the following: it has all the fun of an action programming game (especially the "all my plans are ruined by your unexpected move"), BUT contrary to most action programming game, you can make decisions DURING the resolution phase, and if you are smart enough this allows you to turn a bad programming into a good move!
I also have to mention that the members of the team who worked on this game are really among the nicest persons you can meet in the Board Games World:
Anne-Cécile
and
Cédric
from
Ludonaute
, and of course the game designer
Christophe Raimbault
. A big thank you to the three of you for this game, you totally deserve this success!
If you already played the BGA adaptation you noticed that there is this splendid
3D train model
. This magnificent adaptation has been realized by
Benjamin Wack
(
Quinarbe
) using
BGA Studio
. Benjamin wanted to keep the spirit of the 3D train in this adaptation for BGA, and I think everyone will agree that this was a great idea! Thank you a lot Benjamin for this adaptation and for making it possible!
And now guys, let's rob this train!
Want to try the next game on BGA before anyone else?
You just have to join the following group (limited space!):
http://boardgamearena.com/#!group?id=1311408
Please report any bug found in: community / report a bug.
WARNING: limited space. We increase players number each day. Please be patient.
Thanks for your feedback!