Play board games online!
Play board games online from your browser
Login
Register now - it's free!
We are very happy to present you today with
Crossroads
, an expansion created for the excellent
Tokaido
, a game from
Antoine Bauza
published by
Funforge
.
Crossroads goes all the way to
doubling
the possibilities offered by the base game. At each of your stops while traveling the East Sea road (except at the inns, where you'll find some rest both for your traveler and for your brains), you can now
choose between two actions
: the one from the base game, and a
brand new one
which renews the game and deepens the planning needed to experience the most perfect travel.
These new actions will enable you to acquire some
Legendary Objects
, to collect
Calligraphies
granting conditional points at the end of the game, to use
Amulets
to get an advantage at just the right time, and even to win (or lose!) money by throwing dice in quiet
gaming rooms
... Nonetheless, you shouldn't forget to take some time to contemplate the
cherry blossoms
, or you could regret it once arrived at Edô. 6 new characters beautifully illustrated by Naïade also make their appearance, adding variety to the games with their specific capabilities.
This release is also the perfect occasion to tell you about a
hot topic
concerning Tokaido, since Funforge just launched a Kickstarter at the end of last week to publish a
Collector's edition
including both the base game and the Crossroads expansion. This crowdfunding campaign, which aims at offering players an exceptional setup for an exceptional game, has already shown the
huge interest
of the board gaming community for Tokaido as the funding goal was reached in
only 3 hours!
Thus, this version is now sure to be created and a lot of stretch goals have already been met, making the box content even better. If you want to take a part in this adventure, you can get straight to
the Kickstarter page for the project
by clicking the image below: a big thank you and congratulations to Funforge for this game and the Collector's edition!

For all of those who like Board Game Arena, there are several useful tools to keep oneself informed of this service news - new games, new features, new stuff...
All these tools allow us to keep you informed without having to spam your mailboxes: please don't hesitate to use many of them to not miss anything!
At first you should like
Board Game Arena Facebook account
. Thus, most of BGA news will be visible on your Facebook newsfeed, with some exclusive news. Be careful: even of you clicked on "like" button, you won't receive all our news unless you do the following:
Go to this page.
Click on "like" or "liked" button.
On the dropdown menu, click on "Get Notifications"
For those who are using a RSS news reader (ex: Feedly), you just have to copy/paste the following link in your reader:
http://forum.boardgamearena.com/feed.php?mode=news
The
Board Game Arena Twitter feed
is also a place where you can follow BGA news, with some additional things. This is also the place where we are posting messages about the maintenance operations in progress on BGA.
Something new: you can now follow Board Game Arena news on
Google Plus
from the
following page
. This is especially practical if you are already a user of Gmail or YouTube.
Some more words: having the possibility to contact you through these different channels is something very valuable for game publishers, and helps BGA a lot to get new board games on the platform. By using the tools above, you keep yourself informed but you also contribute directly to develop this service!
See you soon!
We are proud and happy to introduce today the game
Battle Sheep
, by Francesco Rotta (
Blue Orange Games
).
Battle Sheep
is a very simple to learn & very fast game, where you must make sure your sheep occupied the most pasture land.
During the first turns (preparation), you just have to build a pasture by placing a tiles with hexagons. Then the game start: you have to place your entire stack of 16 sheep on a starting hex. Then, at your turn, you must split one of your sheep stack and move the top part in a straight line as far as it can go (before hitting another sheep or the border). The game ends when you can't move anymore, and the player who occupy the most pasture land wins the game.
Of course, to win, you have to block your opponent's stacks - and make sure your stacks are not blocked. This is far from obvious, and there are frequent turnaround
Battle Sheep is simple, rich and intelligent. As the game space changes from one game to another, each game is different. As it is really easy to learn, we strongly recommend you to try it there to form your own opinion!
Battle Sheep will be available for sell on next month (March).
Battle Sheep adaptation for Board Game Arena has been realized by Romain Fromi (
tilalilalou
). This is the second adaptation made by Romain: Thank you very much & good job!!
Board Game Arena would like to send a big THANK YOU to
Blue Orange Games
for giving us the possibility to discover this game online, and for their fantastic work around their games (Blue Lion, Okiya, Peloponnes, Longhorn...).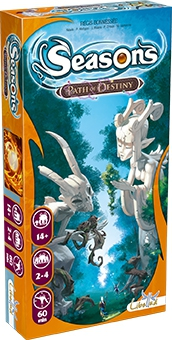 Oyez, oyez, oyez, dear sorcerers of the Xidit kingdom! To warm up the long nights of winter,
Libellud
is about to release a new expansion for
Seasons
: "Path of Destiny".
This new expansion offer 21 new power cards with new amazing effects, 6 new "special ability" tokens, 10 new "enchantment" cards, and a mysterious "Die of Destiny". Shazaaaaaaam!
You: "Please, please, tell me where I can find this expansion right now!!".
Me: "Nowhere! You have to be patient, because this new expansion will be available in your favorite shops (US, France, Germany, Italy) around
March 7th
".
You: "Why is this world so unfair and cruel!!"
Me: "Well, but you know,
Libellud
is a very special publisher, with very special magic abilities. They manage to make 5 cards from Path of Destiny expansion playable on Board Game Arena!!"
You: "Thank you lord! Thank you lord! And when are these new cards available?"
Me: "
Right now
!
"
The new available cards are:
The "Potion of the Ancients": a very flexible card, you can choose 2 effects among 4.
The "Sepulchral Amulet": very powerful: you can pick cards from the discard pile.
The "Estorian Harp": to increase your summoning gauge at each activation.
The incredible "Arus's Mimicry": it gives you 12 crystals when you sacrify a card.
And the terrrrrrrrrible "Argosian Tangleweed": it removes the effects of a Familiar in play. All the effects? Yes, all. Grrrrrrr!
Board Game Arena would like to send a big "thank you" to
Libellud
for this expansion, and we recommend you strongly to preorder this new expansion for Seasons: Path of Destiny!
We are pleased to announce that
Tournay
, a game from Sébastien Dujardin, Xavier Georges and Alain Orban (
Pearl Games
) is now available on Board Game Arena.
Does these names ring a bell to you? Yes: this is the same team that designed the excellent
Troyes
- which you can already play on BGA. This is why we're so happy to let your discover this new pearl from Pearl Games published in 2011. Tournay is a very good card game, so if you like cards combinations you'll like it a lot!
Basic game rules are quite easy: each players have some white/yellow/red meeples ("workers") which represent his available actions, and some money ("deniers").
You can use workers to draw cards from one of the 9 available deck, and add it to your hand. At the beginning of each turn, you can pay the cost (in deniers) of a card to play it from your hand to your "district". Your district is a grid of 3x3 cards, and you must pay attention where to place each card because some cards effects are triggered when something is happening in the same column/line. Finally, you can active some cards effects by placing a worker on them.
When you have no more workers, you can choose not to do any action and get back all your workers - of course you must do it at the right moment
There is also a possibility to use some of your opponents' workers by paying them.
So, during the game, you will fight with your opponents to draw the best cards according to your strategy, and then build an efficient 3x3 grid of cards. An "efficient grid" is a district that can give you plenty of money, plenty of cards, and plenty of dangerous effects to slow down your opponents.
And what about points? You will get most of your points from level III "prestige" buildings. Each prestige buildings in play introduce a new way to score points for you... and your opponents. As a consequence, you need to choose prestige buildings that will bring you the most points... and try to get points from your opponents' prestige buildings at the same time.
Tournay is an excellent card games will a lot of available strategies. This is also an excellent game for 2 players - and we know you love this type of configuration on BGA
This adaptation of Tournay for Board Game Arena has been realized by
Pierre Scelles (pikiou)
. This is the fourth (!) realization from Pierre: congratulations and thank you for this wonderful adaptation!
Finally, we would like to send a very special
Thank you
to the whole team of
Pearl Games
, for the quality of their games and for their kindness. We wish them plenty of success for their latest games
Bruxelles 1893
!