Play board games online!
Play board games online from your browser
Login
Register now - it's free!
To everyone: we are experimenting a new tournament system (Swiss System) tonight, using Race for the Galaxy.
A test tournament is starting in an hour from now (19:00 CEST). You'll have to play 4 games starting at 19:00, 19:15, 19:30 and 19:45. You get 1 point for each win (and 0.5 for each draw).
To participate,
register now
!
More test sessions to come...
Some time ago,
we asked you
to share with us your nicest stories with Board Game Arena.
Today, we publish a story from Nicolò. Thank you for playing & loving BGA!
15 years ago i had a website about manga and anime.
I lost all contacts with my collaborator becouse the website was closed about 10 years ago and we dont use facebook yet!

so.. few month ago a guy contact me on BGA during a gameplay... He's my "old" collaborator/partner of my website: "perty1976"!

LOL was really strange! cool! BGA is great!

thank u and have a nice sun,
Nicolò
To share with us your nicest story with Board Game Arena, please write to
contact@boardgamearena.com
with subject "My BGA story".
Some time ago,
we asked you
to share with us your nicest stories with Board Game Arena.
Today, we publish a wonderful (love) story from Arielle. Thank you for playing & loving BGA!
Yesterday is a history, tomorrow is a mystery, but today is a gift, that is why it is called present.

BGA is a special present of life. We lived it, we are living it, and we will live it as long as we can.

I met my boyfriend in Zurich, where I studied as a PhD student. He was a postdoc who would soon finish his work in Lyon and planned to go back to our homeland. It was love at first-sight. We fell in love so quickly that neither of us wanted to think about the pain of a long-distance relationship. When the day of departure finally came, I tested the theory personally that the airport has witnessed more tears than anywhere else.

Oh, I almost forgot to mention that I was part of a Zurich board game club back then. We held games night every Sunday. Stories of games night naturally became a topic between me and my boyfriend. I shared with him all the new games we tried there: small world, sabotour 2, etc through oversea phone calls. He always listened with great interests although he knew little about board games except for the Go. I had always wanted to involve him into the world of board game, then one day, I accidently found BGA, and that's it. We started a very special tradition of spending most weekends together via BGA, and it becomes the most loyal witness of our long distance relationship for 25 months! I think our first game is Dominion, which used to be our favorite for quite a long time till it got removed from BGA (very sorry for that). We tried Race for the Galaxy several times to actually become fans of it. Now our BGA duels always start with that game. There are some games that I have played first in person on games night, then introduced it to my boyfriend (such as Tobago). But there are many other games that we played for the first time on BGA (such as Seasons, Tzolk'in, etc.). BGA has provided us with numerous games for two, and we have tried almost every game that works with two players on this site. Our favorite games do not entirely overlap, but we almost always play Race for the Galaxy, Tokaido, and Toyes every time we log on BGA. By the way, we are also big fans of Resistance/Avalon, it is quite a pity that such game does not suit the design of web-based board game platform.

I finished my study at the end of 2013 and left Europe to come to the city where my boyfriend works. I feel a bit sorry that the connection from here to BGA is not ideal, refreshing during games happens frequently. Besides, we can play face-to-face instead of online (although many games are easier that way). So we don't come to BGA as often as we used to be. Nonetheless, I want to thank everyone from the BGA community. If it was not for BGA, my boyfriend and I may not have had so much fun time together. Although BGA is not playing a big part in our life as it used to be, we still keep an eye on it. Hopefully it will be known and loved by other couples like us.
To share with us your nicest story with Board Game Arena, please write to
contact@boardgamearena.com
with subject "My BGA story".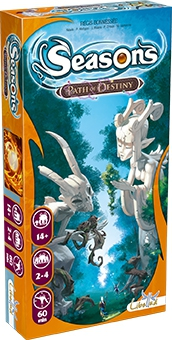 Dear sorcerers of the Xidit Kingdom, time has come to follow the Path of your Destiny!
In last February, BGA and
Libellud
introduced 5 cards from the "Path of Destiny" Seasons expansion to be published in March. Now, the
remaining 16 cards of the expansion are available on Board Game Arena
.
Click here to see more details about this
.
Note that in addition to these new cards, this new expansion offers very nice additions not available on BGA : 6 new "special ability" tokens, 10 new "enchantment" cards, and a mysterious "Die of Destiny".
Board Game Arena would like to send a big "thank you" to
Libellud
for this expansion, and we recommend you strongly to order this new expansion for Seasons: Path of Destiny!
Board Game Arena is now available in
Korean
! This is the
27th language
to become available on BGA, which is pretty incredible for us. A
big, big thank you
to the Korean translators who made this possible!
And of course, this is great news, because we heard that there is a lot of board game fans in Korea, so this translation will probably bring
more players
into the BGA community for challenging international gaming: please give them a warm welcome!